The New Boho: New Boho Inspiration For Bedrooms & Dorms
The following two tabs change content below.
At Home With Daneen is an award-winning woman's lifestyle blog founded by Daneen Rogers. From beauty and fashion to home & garden, cooking, recipes and more, At Home With Daneen is the go-to place for lively and lighthearted lifestyle inspiration!
Latest posts by AtHomeWithDaneen (see all)
Watercolor prints.  Native American inspiration.  Natural elements like wood and stone–some call it hippie chic, but I call it the new boho!
Traditional boho decor derives a lot of inspiration from middle eastern cultures with it's bright jewel tones, gold accents and eclectic patterns.  The new boho, however, is more like cool hippie chick meets brave tribal warrior!
You can easily create a new boho space of your own, using a soft watercolor palette and plenty of natural decorative accents with splashes of personal touches.  After all, ​your dorm space has to be a place where you can relax, study, create and unwind, and what better place to show off your free spirit?
 Where to start?  Well, that's easy.  Simply combine old with new furniture pieces (a bedframe, a dresser, a desk).  Add a touch of whimsy with macrame wall hangings, windchimes and candle holders. Layer your bed (which is no doubt the focal point of your space) with casual throw blankets and throw pillows. Twinkly fairy lights set the mood and treasured photos in vintage frames remind you of family and friends back home.  Create a 
bohemian mood board
 around your 
indie-inspired work space
.  Think of your dorm as your own personal bohemian retreat!
New boho decor staples:
Lots of throw pillows & throw blankets
Scented candles (and even incense) in decorative holders
Wall words & photos of positive quotes (check out these gorg tribal/boho free printables!)
Dreamcatchers and windchimes in all different sizes and shapes, hung about your space
Sheer white netting used as window treatments and/or as a bed canopy
Tapestries with mandala and/or tribal prints
Plants and cacti (real or artificial), hanging and/or table top
Natural elements, like wood, stone, fabric and even feathers​!
Check out some of these cool indie pieces below, perfect for a new boho dorm space:
 1.  
Reversible 3 pc Quilt Set
, $67.99 (twin)
2.  
Mandala Tapestry/Wall Hanging
, $5.29
3.  
Yarn Dyed Texture Tassel Pillow
, $17.99 & 
Pom Pom row Throw Pillow
, $22.49
4.  
Fuzzy Blanket Throw
, $14.99
5.  
Boho Beauty Framed Poster
, $34.19
6.  
Boho Tribal Watercolor Wall Art Print Set of 4
, $23
7.  
Sun Moon Stars Area Rug
, $19.36
8.  
Blue, Pink & Purple Dreamcatcher
, $9.60
9.  
Macrame Wall Hanging
, $18.99
10. 
Small 
Artificial Layered Leaf Plant in Wood Pot
, $7.59
​11.  
Paper Orb String Lights
, $14.99
12.  
Himalayan Salt Tea Light Candleholder
, $4.99
The images below were curated from Pinterest, and they totally embrace new boho decor: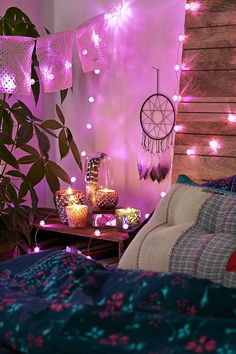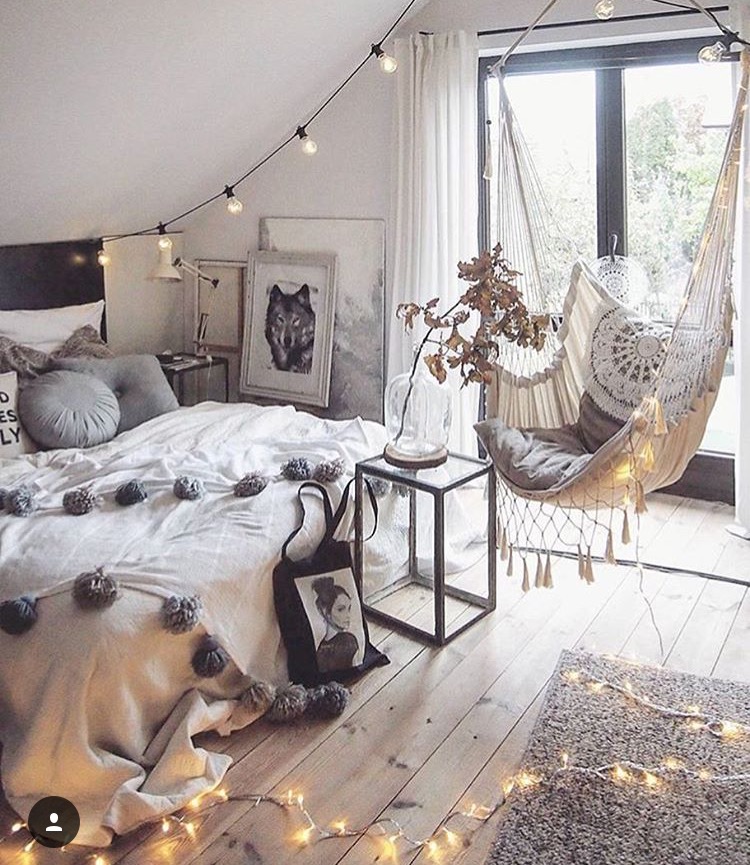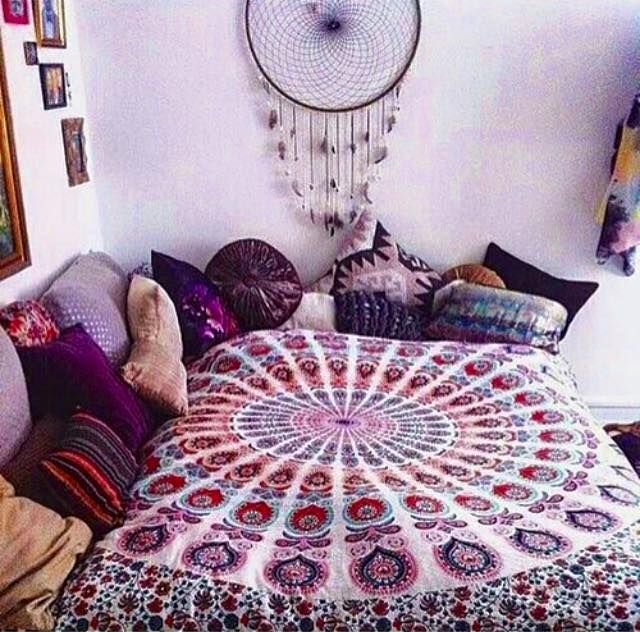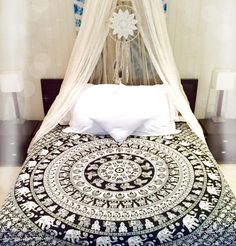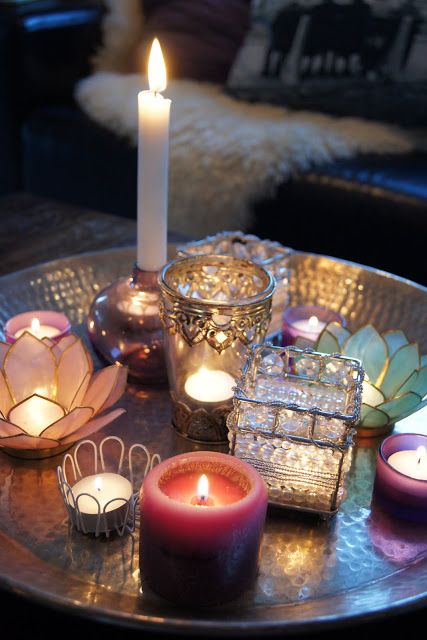 For more great info on new boho and well as traditional boho decor for the bedroom and beyond, check out these fabulous blogs:

Comments
comments