The Best Game Ports On IOS (For iPad & iPhone)
The following two tabs change content below.
Ewan Hollander
Just sharing things that interest me in the hopes that they interest others as well
Latest posts by Ewan Hollander (see all)
It feels like we are currently in a golden age of IOS gaming. With new, extremely creative IOS only games being released weekly, its worthwhile remembering that there is a treasure trove of games for the iPhone and iPad that have been ported from PC and consoles.
Here is a list of essential game ports for your iPad or iPhone. This list will be continually updated as and when new games are released. If you know of a game that should be on the list, please mention it in the comments below.
The Escapists 2 is hilariously thrilling, sandbox strategy experience that issues the not-so-simple challenge of escaping from prison. Create your own con with hundreds of customisation options and jump into The Escapists 2: Pocket Breakout. Explore the biggest prisons yet, with multiple floors, roofs, vents and underground tunnels. You'll have to live by the prison rules, attending roll call, doing prison jobs and following strict routines; all the while secretly engineering your bid for freedom!
Command your ship and crew as a space pirate, merchant, bounty hunter, and more in Star Traders: Frontiers – an epic space RPG from Trese Brothers Games. Venture forth into a massive open universe, rich with adventure and the lore of the Star Traders. Choose your path by assembling and commanding your custom crew and spaceship in a constantly evolving galaxy torn by internal strife, political intrigue, and alien threats. Will you fly as a pirate terrorizing shipping lanes, join the solar wars as a military captain, or track targets across the stars as a fearsome bounty hunter?

As the freshly elected leader of an underdeveloped Caribbean island with untapped resources and enormous potential, hopes are high that you will deliver Tropico into the glorious future its people deserve. The opportunities are boundless in this humorous city-builder with a political twist.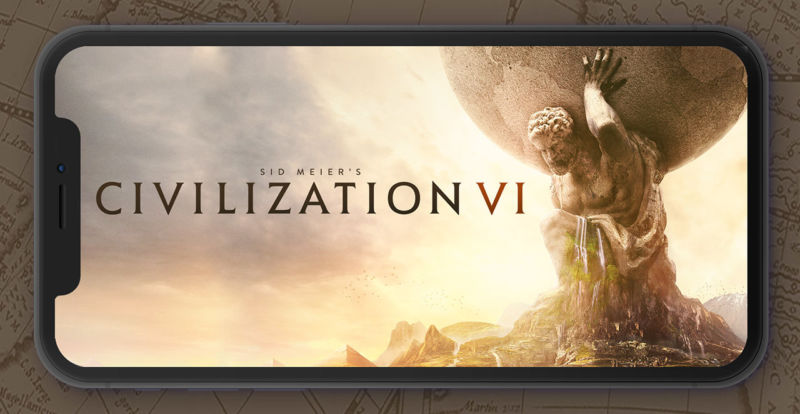 Originally created by legendary game designer Sid Meier, Civilization is a turn-based strategy game in which you attempt to build an empire to stand the test of time by leading a civilization from the Stone Age to the Information Age. Explore a new land, research technology, conquer your enemies, and go head-to-head with history's most renowned leaders as you attempt to build the greatest civilization the world has ever known.
Move to the countryside, and cultivate a new life in this award-winning open-ended farming RPG! With over 50+ hours of gameplay content and new Mobile-specific features, such as auto-save and multiple controls options.

Escape from reality but not from your custom-made jail! Prison Architect: Mobile challenges you to build and manage a maximum security prison, from laying out cell blocks and inmate facilities, to managing staff pay and prisoner morale. From layout to execution (literally, in some cases), you are the architect, the warden, and the enforcer.

Dive into the ultimate mobile dino-adventure with ARK: Survival Evolved! A massive game world combines with 80+ unique dinosaurs and primal creatures for you to capture and tame – making for a survival experience bar-none. Meet up with other players and friends in this Jurassic-era world, to form tribes and work together to build colonies of survivors.
One of the most acclaimed adventure games of all time is now back, better than ever. Grim Fandango's epic story of four years in the life (or death) of Manny Calavera, travel agent to the dead, has been remastered to look, sound, and control even better than when it won GameSpot's Game of the Year award upon its original launch. Grim Fandango still stands as a classic of the genre, with unforgettable characters and unique combination of film noir and Mexican folklore.

On mobile, Fortnite is the same game you know from PlayStation 4, Xbox One, PC, and Mac. Same map, same gameplay, same weekly updates. Build your fort as you battle to be the last one standing. Jump in and squad up with friends around the world or in the same room!
Is Fortnite on mobile MFI compatible? You bet it is! Epic Games released an update to Fortnite making it compatible with MFI controllers.
100 players parachute onto a remote 8×8 km island for a winner-takes-all showdown. Players have to locate and scavenge their own weapons, vehicles and supplies, and defeat every player in a graphically and tactically rich battleground that forces players into a shrinking play zone. Get ready to land, loot, and do whatever it takes to survive and be the last man standing!

Don't Starve Pocket Edition
Play as Wilson, an intrepid Gentleman Scientist who has been trapped and transported to a mysterious wilderness world. Wilson must learn to exploit his environment and its inhabitants if he ever hopes to escape and find his way back home.

Grand theft Auto Series
Rockstar Games brings its biggest release to mobile yet with a vast open-world covering the state of San Andreas and its three major cities – Los Santos, San Fierro and Las Venturas – with enhanced visual fidelity and over 70 hours of gameplay.

From the decade of big hair, excess and pastel suits comes a story of one man's rise to the top of the criminal pile. Vice City, a huge urban sprawl ranging from the beach to the swamps and the glitz to the ghetto, was one of the most varied, complete and alive digital cities ever created. Combining open-world gameplay with a character driven narrative, you arrive in a town brimming with delights and degradation and given the opportunity to take it over as you choose.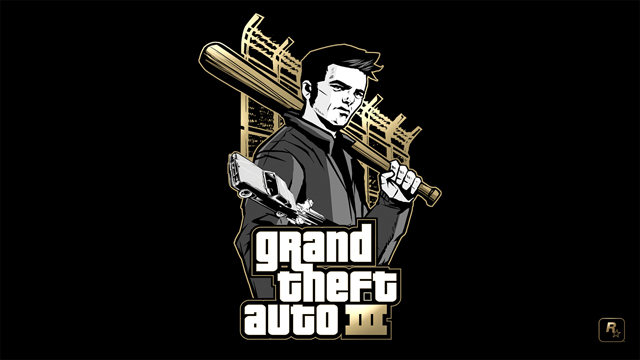 Rockstar Games celebrates the 10th anniversary of one of the most influential games of all time. The critically acclaimed blockbuster Grand Theft Auto III comes to mobile devices, bringing to life the dark and seedy underworld of Liberty City. With a massive and diverse open world, a wild cast of characters from every walk of life and the freedom to explore at will, Grand Theft Auto III puts the dark, intriguing and ruthless world of crime at your fingertips.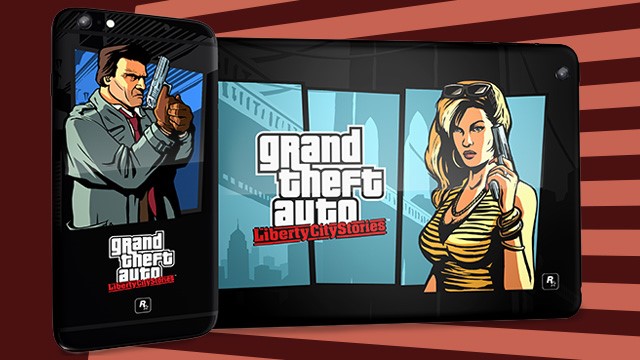 Get ready to head back to the East Coast as Grand Theft Auto: Liberty City Stories returns to mobile devices. With shorter, streamlined missions designed with mobile gameplay in mind, this definitive open-world adventure has been remastered for iOS with extensive graphic enhancements, rebalanced touch controls, cross platform saves and native Retina screen support.

Following his father's murder, Huang Lee has a simple mission: deliver an ancient sword to his Uncle Kenny to ensure his family retains control of the Triad gangs of Liberty City. Huang is a spoiled rich kid who expects everything to run smoothly, but his trip does not go exactly as planned. After being robbed and left to die, he will search for honor, riches and revenge in the most dangerous and morally bankrupt city in the world.
Built specifically for portable devices, the groundbreaking Grand Theft Auto: Chinatown Wars has been updated for iOS devices to provide an enhanced and more immersive experience.
The Rockstar Games tradition of groundbreaking, original gameplay and humorous tongue-in-cheek storytelling invades the schoolyard in Bully: Anniversary Edition. As mischievous 15-year-old Jimmy Hopkins you'll navigate the social hierarchy of the corrupt and crumbling prep school, Bullworth Academy. Stand up to bullies, get picked on by teachers, beat the jocks at dodge ball, play pranks, win or lose the girl and survive a year in the worst school around.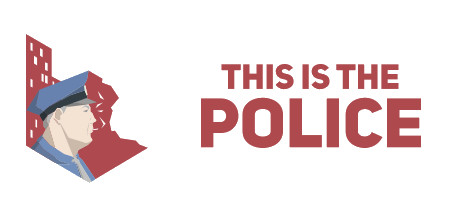 Dive into a deep story of corruption, crime and intrigue. Take the role of gritty Police Chief Jack Boyd, and come face to face with the ugly underbelly of Freeburg, a city spiraling the drain. Will Jack reach his retirement with a nice stack of bills, or will he end up broken … or worse?

Experience the full glory of ROME: Total War on iOS! Build and rule the ancient world's greatest empire by fighting spectacular real-time battles in huge turn-based campaigns.

Recruit, train, and lead a team of flawed heroes through twisted forests, forgotten warrens, ruined crypts, and beyond. You'll battle not only unimaginable foes, but stress, famine, disease, and the ever-encroaching dark. Uncover strange mysteries, and pit the heroes against an array of fearsome monsters with an innovative strategic turn-based combat system.


A fugitive undercover cop framed for murder, hunted by cops and the mob, Max is a man with his back against the wall, fighting a battle he cannot hope to win. Max Payne is a relentless story-driven game about a man on the edge, fighting to clear his name while struggling to uncover the truth about his slain family amongst a myriad of plot-twists.

Hello Neighbor is a stealth horror game about sneaking into your neighbor's house to figure out what horrible secrets he's hiding in the basement. You play against an advanced AI that learns from your every move. Really enjoying climbing through that backyard window? Expect a bear trap there. Sneaking through the front door? There'll be cameras there soon. Trying to escape? The Neighbor will find a shortcut and catch you.

In FTL you experience the atmosphere of running a spaceship trying to save the galaxy. It's a dangerous mission, with every encounter presenting a unique challenge with multiple solutions. What will you do if a heavy missile barrage shuts down your shields? Reroute all power to the engines in an attempt to escape, power up additional weapons to blow your enemy out of the sky, or take the fight to them with a boarding party? This "spaceship simulation roguelike-like" allows you to take your ship and crew on an adventure through a randomly generated galaxy filled with glory and bitter defeat.

Armello is a grand swashbuckling adventure combining three styles of play; The deep tactics of card games, the rich strategy of turn-based tabletop board games, and the adventure of fantastical RPGs.

Pick up your cards and throw down the gauntlet! In Hearthstone, you play the hero in a fast-paced, whimsical card game of cunning strategy. In minutes, you'll be unleashing powerful cards to sling spells, summon minions, and seize control of an ever-shifting battlefield. Whether it's your first card game or you're an experienced pro, the depth and charm of Hearthstone will draw you in.

Life Is Strange is a five part episodic game that sets out to revolutionize story-based choice and consequence games by allowing the player to rewind time and affect the past, present, and future. Follow the story of Max Caulfield, a photography senior who discovers she can rewind time while saving her best friend Chloe Price.
Bastion for iOS features all the highly acclaimed artwork, music, and narration that Bastion is known for, along with intuitive touch controls. Explore more than 40 lush hand-painted environments as you discover the secrets of the Calamity, a surreal catastrophe that shattered the world to pieces. Wield a huge arsenal of upgradeable weapons and battle savage beasts adapted to their new habitat. Finish the main story to unlock New Game Plus mode and continue your journey!

RollerCoaster Tycoon® Classic is a new RCT experience, combining the best features from two of the most successful and beloved RCT games in the series' history – RollerCoaster Tycoon® and RollerCoaster Tycoon® 2. Create and run amazing parks complete with the most outrageous rides imaginable. RCT Classic includes a mixture of authentic playability, depth of gameplay and unique graphical style of Chris Sawyer's original best-selling RollerCoaster Tycoon® PC Games, now enhanced for handheld devices.
Packed with content, players can enjoy designing and building roller coasters and rides, landscaping parks and managing the staff and finances to keep their guests happy and the money flowing in.
RollerCoaster Tycoon® 3 (RCT3) is the classic bestselling PC strategy simulation that now brings the fun of a roller coaster park right to your iPhone or iPad! With a new mobile-friendly UI, the creativity, depth and sophistication of the classic PC game is all here – with NO in-app purchases.
Baldur's Gate Series
Since its original release in 1998, Baldur's Gate has set the standard for Dungeons & Dragons computer roleplaying games. Customize your hero, recruit a party of brave allies, and explore the Sword Coast in your search for adventure, profit… and the truth. Baldur's Gate: Enhanced Edition contains the original 60-hour adventure, as well as the following additions: Tales of the Sword Coast, The Black Pits and Brothers Lost.
Kidnapped. Imprisoned. Tortured. The wizard Irenicus holds you captive in his stronghold, attempting to strip you of the powers that are your birthright. Can you resist the evil in your blood and forsake the dark destiny that awaits you? Or will you embrace your monstrous nature and ascend to godhood as the new Lord of Murder? Continue a journey started in Baldur's Gate: Enhanced Edition or create an entirely new character in this isometric Dungeons & Dragons roleplaying game.
Originally released in 2000, Icewind Dale is a Dungeons & Dragons game set in Wizards of The Coast's legendary Forgotten Realms. This Enhanced Edition allows a new generation of players to experience this epic adventure.

The original Planescape: Torment was released in 1999 to widespread critical acclaim. It won RPG of the Year from multiple outlets for its unconventional story, characters, and amazing soundtrack. Since then, millions of Planescape: Torment fans have enjoyed exploring the strange and dangerous city of Sigil and surrounding planes. Discover an incredibly rich story and a unique setting unlike anything else in fantasy. Defeat strange and alien creatures, engage in rich dialogue, and explore the dark and dangerous Planescape setting in this 50+ hour RPG classic.

Ignite your high-speed career as a pro-racer in Codemasters' AAA hit — engineered to deliver an irresistible mix of simulation and arcade handling.

Originally released on PC in 2006, Titan Quest is an action RPG set against a mythological backdrop. The Titans have escaped from prison and are hell-bent on destroying the Earth. The Gods alone can't stop them — a hero is needed to lead this epic struggle. Victory or defeat will determine humanity's fate and that of the Olympians.

Game Dev Tycoon is a casual business simulation game where your success depends on your creativity and willingness to experiment. The game does *not* contain any in-app purchases or ads. Slip into the role of a game developer: start your own company, design your own games and make your way to the top to become a Game Dev Tycoon.

The Binding of Isaac is a randomly generated action RPG shooter with heavy Rogue-like elements. Following Isaac on his journey players will find bizarre treasures that change Isaac's form giving him super human abilities and enabling him to fight off droves of mysterious creatures, discover secrets and fight his way to safety.

XCOM®: Enemy Within is a standalone expansion to the 2012 strategy game of the year XCOM: Enemy Unknown and it's now available on iOS devices! Enemy Within features the core gameplay of Enemy Unknown plus more exciting content. Check out the new soldiers, abilities, enemies, maps, missions, and multiplayer mode for the fresh new strategy gaming experience!

The Witness is a single-player game in an open world with dozens of locations to explore and over 500 puzzles. This game respects you as an intelligent player and it treats your time as precious. There's no filler; each of those puzzles brings its own new idea into the mix. So, this is a game full of ideas.

Death Road to Canada is a Randomly Generated Road Trip Action-RPG. You manage a group of jerks as they explore cities, find weird people, and face up to 500 zombies at once. Everything's randomized: locations, events, survivor personalities and skills. There's a different story every time you play.

A brand new adventure game from Ron Gilbert and Gary Winnick, creators of the classics Monkey Island and Maniac Mansion! Play as five characters to uncover the surreal mystery of Thimbleweed Park — a town where a dead body is the least of your problems. A haunted hotel, an abandoned circus, a burnt-out pillow factory, a dead body pixelating under the bridge, toilets that run on vacuum tubes… you've never visited a place like Thimbleweed Park before
Your job as immigration inspector is to control the flow of people entering the Arstotzkan side of Grestin from Kolechia. Among the throngs of immigrants and visitors looking for work are hidden smugglers, spies, and terrorists. Using only the documents provided by travelers and the Ministry of Admission's primitive inspect, search, and fingerprint systems you must decide who can enter Arstotzka and who will be turned away or arrested.
It is four thousand years before the Galactic Empire and hundreds of Jedi Knights have fallen in battle against the ruthless Sith. You are the last hope of the Jedi Order. Can you master the awesome power of the Force on your quest to save the Republic? Or will you fall to the lure of the dark side? Hero or villain, savior or conqueror… you alone will determine the destiny of the entire galaxy!

Kingdom: New Lands provides a welcome yet challenging & strategic experience for newcomers and longtime fans alike. Building upon the award-winning twist on tower defense gameplay and mystery of classic Kingdom, New Lands introduces an abundance of new content to the IGF-nominated title while maintaining the simplicity and depth that legions of monarchs have come to cherish.

There's a massive 17 countries to base yourself including all the big European leagues, so you'll be the boss at one of the world's top clubs. Transfers and tactics are completely down to you, so you'll play the transfer market and decide who plays and who warms the bench. It's down to you to keep the players, the board and the fans happy and lead your club to victory, and who knows – maybe one day they'll name a stadium after you!
In This War Of Mine you do not play as an elite soldier, rather a group of civilians trying to survive in a besieged city; struggling with lack of food, medicine and constant danger from snipers and hostile scavengers. The game provides an experience of war seen from an entirely new angle.
Unleash your inner architect as the PC mega-hit arrives on iPad! Playing as both architect and developer, your job is to build world-famous skyscrapers that will be the envy of the entire city. Manage every aspect of your building from construction through to keeping your tenants happy. Success is entirely in your hands.
Inside is a puzzle-platformer adventure game developed and published by Playdead in 2016 for PlayStation 4, Xbox One and Microsoft Windows. The game was released for iOS in December 2017. The player controls a boy in a dystopic world, solving environmental puzzles and avoiding death
Limbo is a puzzle-platform video game developed by independent studio Playdead. Uncertain of his sister's fate, you play as a boy who enters Limbo.
Gameplay-wise, Goat Simulator is all about causing as much destruction as you possibly can as a goat. It has been compared to an old-school skating game, except instead of being a skater, you're a goat, and instead of doing tricks, you wreck stuff. more! When it comes to goats, not even the sky is the limit, as you can probably just bug through it and crash the game.
Take urgent care of the world's unluckiest patient, Bob, with your very own shaky hands. As the would-be surgeon Nigel Burke, perform all kinds of crazy surgeries to try to save his life — or fail hilariously in the process while poor Bob… Well, dies.

In Terraria, every world is unique — from the floating islands in the sky to the deepest level of The Underworld. Adventure to the ends of the earth, and battle villainous bosses along the way. The world is your canvas and action-packed, sandbox adventures are just a pickaxe swing away!
From the creators of the Game of the Year award-winning series The Walking Dead: A Telltale Games Series, comes a gritty, violent and mature thriller based on the award-winning Fables comic books (DC Comics/Vertigo).

Explore infinite worlds and build everything from the simplest of homes to the grandest of castles. Play in creative mode with unlimited resources or mine deep into the world in survival mode, crafting weapons and armour to fend off dangerous mobs. Create, explore and survive alone or play with friends on all different devices.
Jade Empire: Special Edition is an award-winning action RPG from the makers of Dragon Age and Mass Effect. Experience a unique combination of fast paced martial arts action with a gripping, character driven story set in a mythical land. Each decision builds your reputation, changing the course of interactions with other characters and followers. Take the role of a master of martial arts, and recruit followers to your cause in an interactive, living world.

There are so many ways to progress through Monster Hunter Freedom Unite for iOS. With a multitude of quests to complete, you can choose to tackle something new, or go back and replay a quest you've already cleared with new weapons and tactics. How you play the game is really up to you! You'll embark on quests with numerous objectives, from gathering items to slaying monsters. If you're successful, you'll reap the spoils, which you can use to create and enhance weapons and armor. Once you've buffed up your character, you'll be ready to take on even bigger quests!
In a world where large monsters roam, and people everywhere make a living hunting, there's a remote village of people who follow a different set of customs. They are the Monster Riders, a people who don't hunt but instead form bonds with monsters. Unlike hunters, they raise and live in harmony with monsters, forming inseparable bonds with them using mysterious artifacts known as Kinship Stones. The monsters that form kinships with Riders, known as "Monsties," possess incredible powers. By becoming a Rider, you too can befriend countless Monsties, riding them as you explore a vast, exciting world.
Square Enix's fresh-faced hit The New York Times called "one of the best role playing games ever designed for anything" has busted onto iOS in a big way, with a slick and addictive new combat system, eye-popping HD art, and (of course) plenty of zetta awesome reasons for longtime fans to double dip. Arm yourself with psychic superpowers and battle your way through a 7-day gauntlet of action: the Reaper's Game.
Transistor
Experience a science fiction action RPG like no other! Wield an extraordinary weapon of unknown origin as you fight through a stunning futuristic city. Transistor for iOS features the vibrant presentation and deep combat that Transistor is known for, with an intuitive new touch interface — or switch to Classic Controls with optional gamepad support.
Final Fantasy Series
Released as the Final Fantasy series' first tactical RPG in 1997, Final Fantasy Tactics on Playstation went on to sell over 2.4 million copies worldwide. The game grew in popularity upon its re-release in 2007 as Final Fantasy Tactics: The War of the Lions for the PSP with added features such as new movies, scenarios and Jobs.

Initially released in Japan in 1987, the original FINAL FANTASY amazed audiences with its rich story and stunning graphics. Players guide the Warriors of Light as they set out on a quest to restore the crystals to their former luster. Its side-view battles, choice and promotion of character classes, and sprawling world explored with fantastic vehicles quickly became standards of the series. This game set the stage for all FINAL FANTASY games to come. This release also contains the bonus dungeons added to later editions of the game–the Soul of Chaos and the Labyrinth of Time.
FINAL FANTASY II is highly anticipated follow-up to the original FINAL FANTASY, released in Japan in 1988. The game features the bitter and beautiful tale of four war-orphaned heroes who become embroiled in a conflict between the hostile Empire of Palamecia and the rebel resistance. By eschewing conventional leveling for a proficiency system that allows players to tailor their characters' growth and incorporating a key term memory system that makes dialogue integral to gameplay, this game sparked the spirit of innovation for which the series has become known. This release also contains the bonus dungeons added to later editions of the game–the Soul of Rebirth and the Arcane Labyrinth.
FINAL FANTASY IV was the first title to introduce the Active Time Battle (ATB) system, which has become synonymous with the series. It also saw the introduction of the Augment system, which enabled the transfer of abilities from other characters and gave players an edge in battles.
Twenty years after the original FINAL FANTASY V released in Japan, the classic RPG has found its way to mobile devices! Embark on an epic adventure as four heroes driven together by fate: Bartz and his chocobo companion, Princess Lenna of Castle Tycoon, the mysterious Galuf, and the pirate captain Faris. The crystals that bring peace and prosperity to the world – earth, water, fire, and wind – have lost their power and are on the verge of destruction.
FINAL FANTASY VI first debuted in 1994 as the sixth installment in the iconic FINAL FANTASY series. Innovations included the ability to play all the main characters as the game's protagonist, and to this day, its epic story intertwining each of their fates is still highly rated and wildly popular. The characters' dramatic performances are also highly rated, including the catastrophe occurring midway through, which delivers a particular emotional jolt to players.

The first Final Fantasy to feature 3D backgrounds and CG movie scenes, this dramatic tale continues to be loved by numerous fans around the world. Battle stages also appear in full 3D for the first time, bringing an even greater sense of awe and spectacle to combat! Customize your characters in any way you like using the fantastic "material" system that allows endless combinations of spells and abilities.
Selling over 5.5million copies since its release in 2000, FINAL FANTASY IX proudly returns on iOS! Zidane and the Tantalus Theater Troupe have kidnapped Princess Garnet, the heir of Alexandria. To their surprise, however, the princess herself yearned to escape the castle. Through a series of unusual circumstances, she and her personal guard, Steiner, fall in with Zidane and set out on an incredible journey. Meeting unforgettable characters like Vivi and Quina along the way, they learn about themselves, the secrets of the Crystal, and a malevolent force that threatens to destroy their world.

Explore the world of the fifteenth FINAL FANTASY in the palm of your hand. The Tale of the Chosen King, Savior to the Star. After years of fighting, the nations of Lucis and Niflheim at last agree to an armistice. As a symbol of this promised peace, Noctis, crown prince of Lucis, is to wed the Lady Lunafreya of Tenebrae. The prince sets forth for his wedding on the eve of the signing ceremony, sent off by his father, King Regis. Unbeknownst to Noctis, however, the journey ahead is fraught with perils…
Dragon Quest Series
The game that started the legend of DRAGON QUEST is here at last for mobile devices! Discover the RPG that won the hearts of two generations! Enter a fantasy world of sword, magic, and monsters in one standalone package!

The second instalment in the celebrated Dragon Quest series finally comes to mobile! Explore fair lands and foul dungeons in this all-time classic RPG! Every wondrous weapon, spectacular spell and awesome adversary in this rich fantasy world is yours to discover in a single standalone package.
DRAGON QUEST III: The Seeds of Salvation—one of the most highly acclaimed and best-selling games in the franchise is finally here for mobile! Now all three instalments of the Erdrick Trilogy can be played in the palm of your hand! Every wondrous weapon, spectacular spell and awesome adversary in this rich fantasy world is yours to discover in a single standalone package. DRAGON QUEST III: The Seeds of Salvation has an independent storyline and can be enjoyed without playing DRAGON QUEST I or DRAGON QUEST II.
Dragon Quest IV, the first instalment in the Zenithian Trilogy, is now out on mobile devices! This epic adventure, unfolding over five unique chapters, each focusing on a different cast of characters, can now be enjoyed on your iPhone, iPod touch or iPad! Experience the full epic game with over 40 hours of gameplay in one standalone package!
This grand adventure, unfolding over three generations, is now available to play in the palm of your hand! Take your place among a family of heroes, sharing in all the triumphs and tragedies of their storied lives!
Dragon Quest VI: Realms of Revelation , the final instalment in the Zenithian trilogy, is now available on mobile devices! Experience an epic adventure spanning two parallel worlds! Recover the heroes' long-lost memories, and bring the two worlds together!
The phenomenally popular DRAGON QUEST VIII has sold 4.9 million units worldwide, and now it's coming to the iPhone and iPad for the first time!
This was the first title in the series to be presented in full 3D, and its exquisitely detailed world has to be seen to be believed! Set off on an unforgettable adventure with Yangus, the bandit with a heart of gold, Jessica, the high-born magical minx, and Angelo, knight and lothario, by your side!

Featured image: Pexels


Comments
comments