Qatar Airways Business Class Review
The following two tabs change content below.
Hi! I became a travel blogger a year ago after 15 years in big corporate marketing jobs. I now do a mix of digital marketing consulting and blogging - hoping to make it 100% blogging eventually! My blog is about luxury adventures in Emerging Destinations that end with a high thread count on your sheets. My key focus is emerging destinations - whether it is a country that has not been visited much or a lesser known part of a well known country. And lots of food and wine and fun! My site is https://theboutiqueadventurer.com and on facebook I am The Boutique Adventurer on IG @theboutiqueadventurer twitter @theboutiqueadv and Pinterest @theboutiqueadve.
Latest posts by Amanda OBrien (see all)
Last time I flew with Qatar Airways it was about 8 years ago and in economy. My key memory was how dreadful Doha airport was – it was a giant tacky duty-free shop plus endless smoking rooms. Well, things have changed!!! I was beyond delighted with my Qatar Airways Business Class experience and Doha airport is now giving Changi a run for its money! Here is my complete Qatar a380 Business Class Review including Doha Airport Lounge: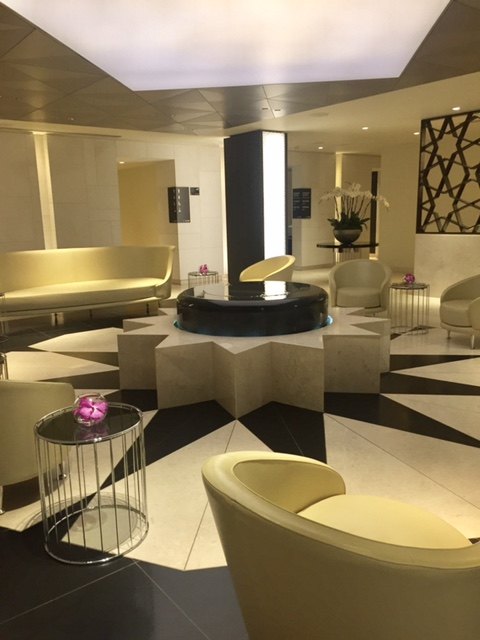 Entrance to the lounge at Heathrow
Qatar Lounge Heathrow Review: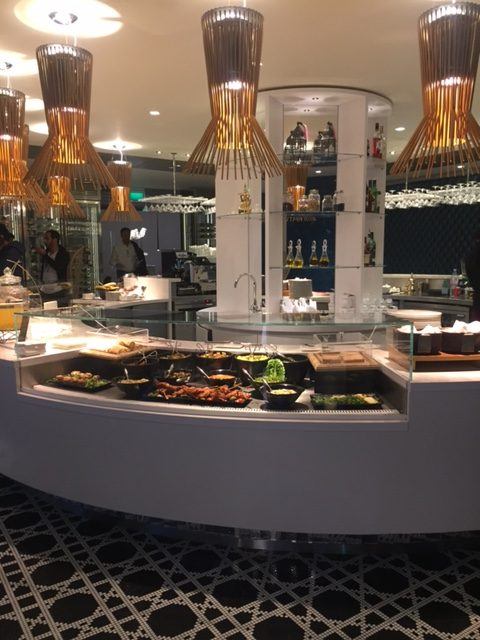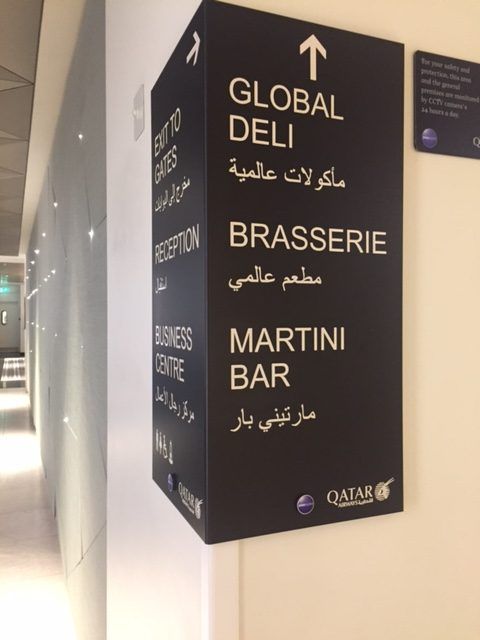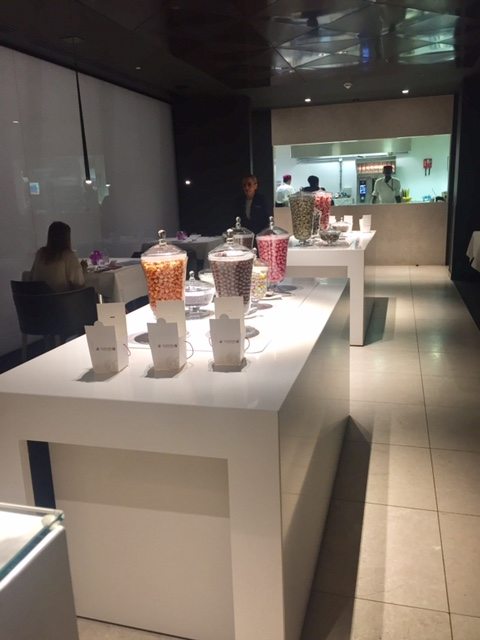 So let's start where so many of my journeys do – Heathrow. Terminal 4 in this case. The Qatar heathrow lounge is located near Gate 6. Make sure you use the Qatar lounge heathrow and not one of the shared ones. The lounge is beautifully laid out with extremely comfortable seats. There is a proper restaurant with a proper menu and proper ordering!

Most importantly there was also proper champagne – Laurent. This is the kind of lounge that makes you want to get to the airport early.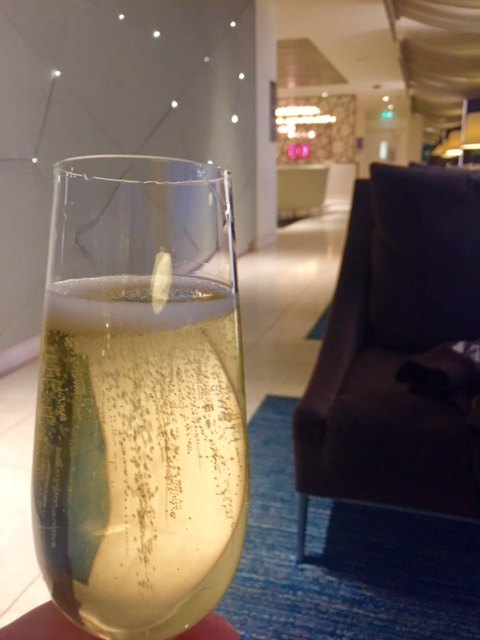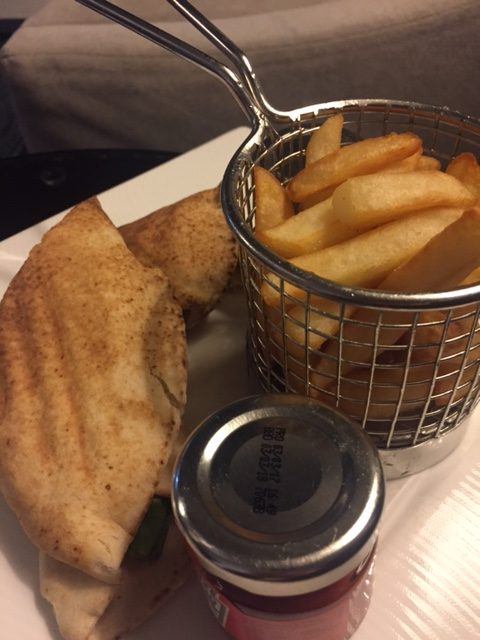 Qatar Business Class Review a380: In flight London to Doha
The plane itself was lovely – very new and stylish. The seating, however, is not as private as Singapore or Etihad Airlines. The bedding had a fabulous plump pillow but the blanket was quite thin – not the nice mock duvet you often get in business in other airlines.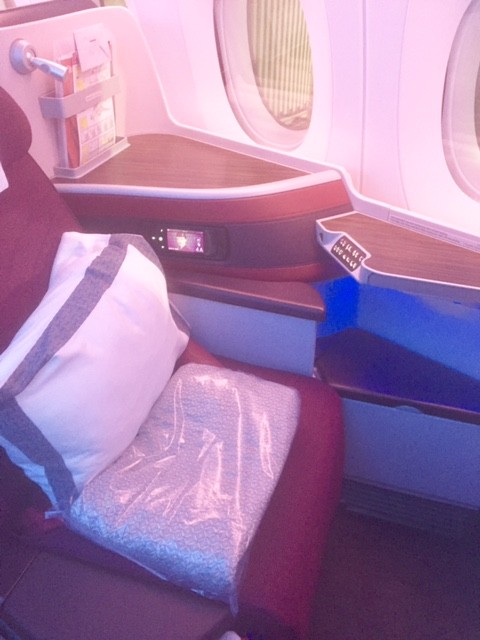 The Qatar Airways business class toiletries were good – a slightly old fashioned case but a very nice face spray from Castello Monte Vibiano Vechhio – an Italian brand of which I had never heard. The service was absolutely fantastic and so friendly – as good as my favourite airline for service Qantas. An unexpected bonus was pyjamas! Again I have only ever had this in virgin business before. And very comfortable pyjamas they were!
The in-flight entertainment system is fantastic! A great big screen and the most up to date movie options that I have ever seen. I didn't eat as it was a late flight and I had eaten in the lounge but a full menu was available on demand.
Qatar a380 Business Class Review: Doha Airport and the Qatar Business Doha Airport Lounge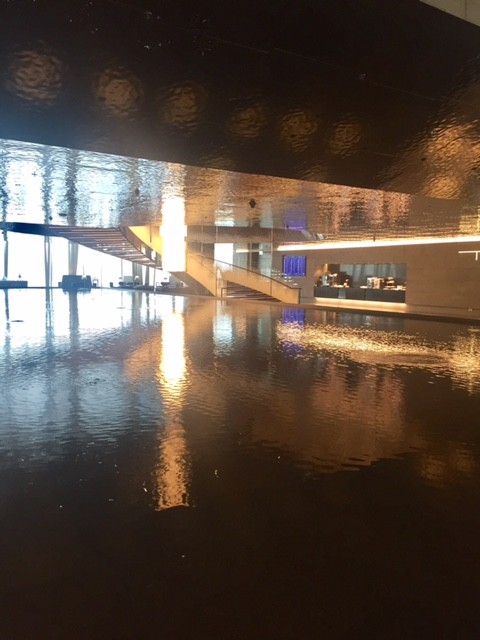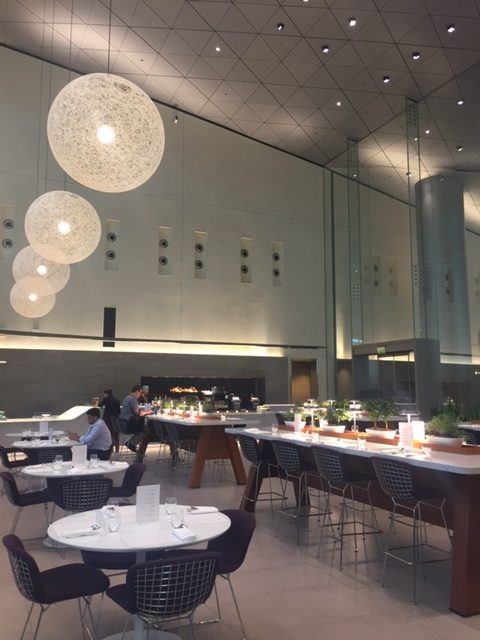 What an airport!!! It looks like a giant Apple shop. This could be because there appear to be Apple screens everywhere – this is a country that is cashed up! There are some slightly nihilistic kid's playground areas but they are good for photos. And let's not forget the giant teddy bear – who wouldn't have one??
What a lounge!!!! Wow wow! The Qatar Airways Business Class is HUGE! My favourite feature was the giant pond in it. You could swim laps in the pond it was so big. There are multiple restaurants. The seating is incredibly modern and comfortable and very well thought through. There are clear dining areas, some really nice areas if there are 3 or 4 of you together to have some privacy and lots of very comfortable sort of work stations plus. The food selection is fantastic.
Qatar Business Class Review a380: Flight from Doha to Kathmandu
We kicked this off with something I very much enjoyed – Qatar Airways Business class had its own bus to go from the terminal to the plane! And what a plush and spacious bus it was! No standing and being jostled for us – these middle eastern airlines sure know how to make you feel special.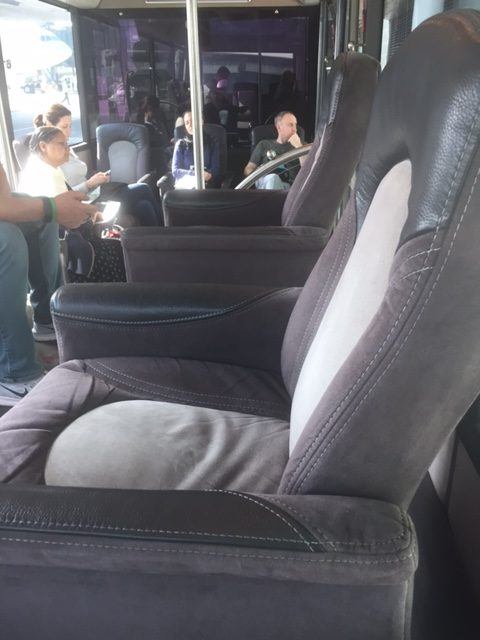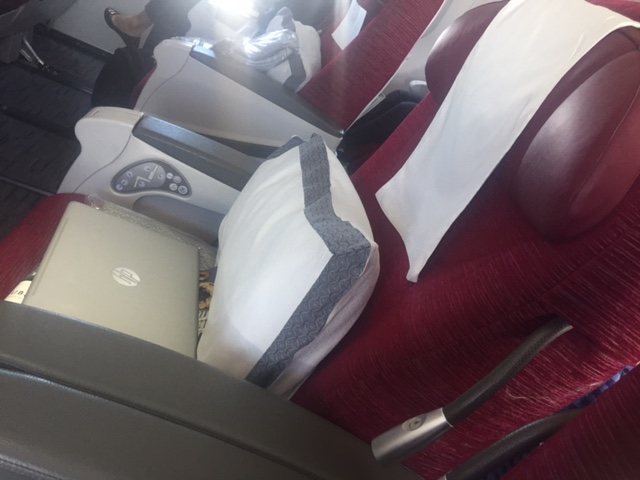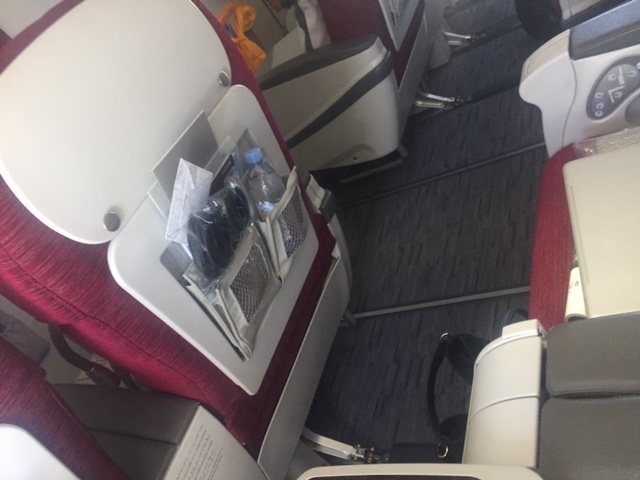 As expected this flight involved an older plane. It was classic old school business class – no beds of course but a comfortable seat. The entertainment system available was virtually the same as the first leg but the screen was smaller and less modern.
Qatar Business Review: Jathamdnbu Lounge at Kathmandu Airport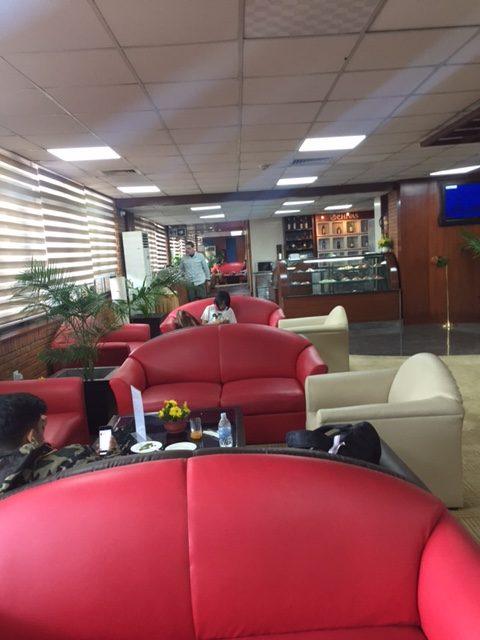 My expectations were very low for this lounge. The worst business class lounge I have ever been to was at Manila airport and this is where I had my expectations. I was delighted to be proven wrong!
It is a shared sort of generic lounge but it is part of the Radisson Hotel at the airport. There was a lot of food available. To be honest it didn't look that tasty but it was only about 11 am when I was there so maybe it improved. The wifi was excellent importantly.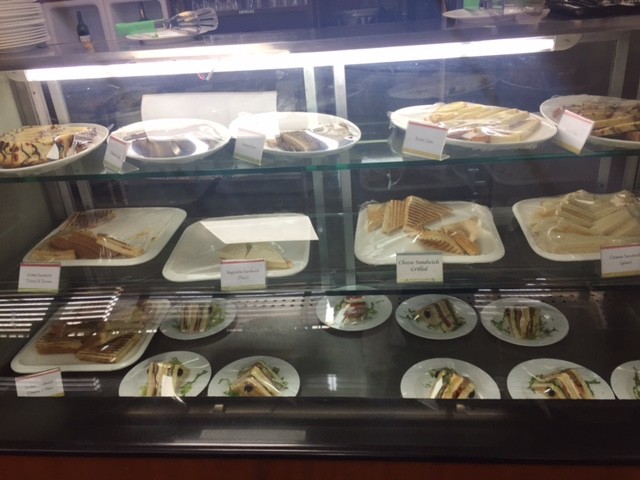 Qatar a380 Business Class Review: Kathmandu back to London via Doha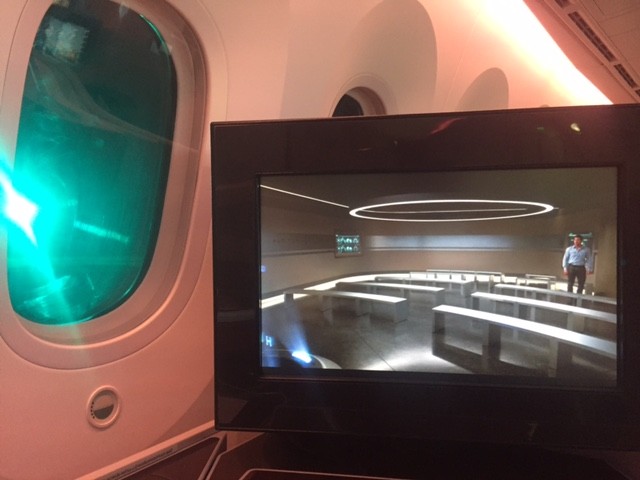 The Kathmandu to Doha leg was pretty much the same in reverse – except I had some nice champagne on the flight (so appreciated after 3 weeks in nepal!!) and some delicious lamb shanks.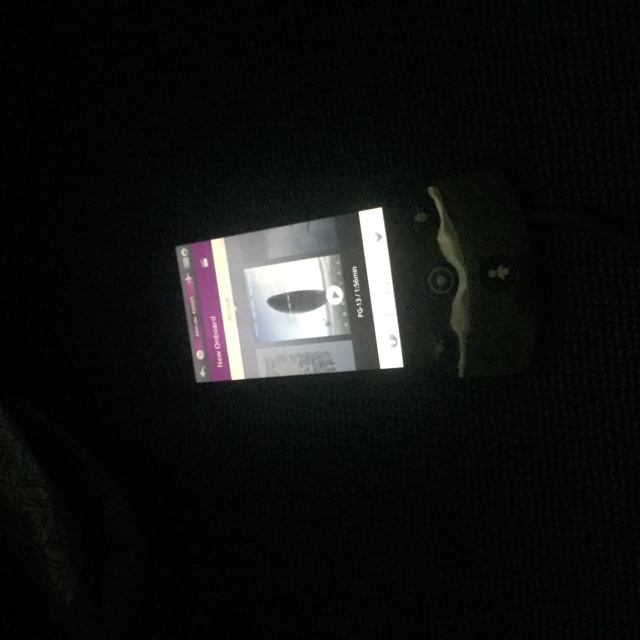 The only difference on the Doha to London leg was how the entertainment system operated. It was a fantastic screen and the same great entertainment system on the way out. However, the screen wasn't touch and you needed to use this kind of ipod device that was quite difficult to use. It also meant you couldn't check out movies on the big screen which is how I like to make my inflight film decisions. Apart from that everything was terrific.
This Qatar Airways Business Class Review is definitely a high thread count airline equivalent and I will be flying with them again!
Qatar a380 Business Class Review Useful Links:
Click here to check out the Qatar Airways website 
Accommodation Doha:
Best Places and Areas to stay in Doha
Comments
comments