Travel Tips – Iberia Business Class Review
The following two tabs change content below.
Hi! I became a travel blogger a year ago after 15 years in big corporate marketing jobs. I now do a mix of digital marketing consulting and blogging - hoping to make it 100% blogging eventually! My blog is about luxury adventures in Emerging Destinations that end with a high thread count on your sheets. My key focus is emerging destinations - whether it is a country that has not been visited much or a lesser known part of a well known country. And lots of food and wine and fun! My site is https://theboutiqueadventurer.com and on facebook I am The Boutique Adventurer on IG @theboutiqueadventurer twitter @theboutiqueadv and Pinterest @theboutiqueadve.
Latest posts by Amanda OBrien (see all)
I was quite excited about Iberia Business Class. A Spanish airline means cava and great food right? and a bit of style? Well, I got a mix of that – but also some rather questionable service. Anyway, I won't ruin the review story! Let's start at the beginning which is almost always for me Heathrow. Iberia partners with British Airways so my London-Madrid legs were with British Airways and then Madrid-Medellin was with Iberia.
Iberia Business Class: British Airways Lounge at Heathrow Terminal 5
Heathrow Terminal 5 has two business lounges. Most reviews hold them to be quite equitable so I went to the North Lounge. It was big but strangely only had 6 ladies toilets! There was actually a queue! The food area was large but the quality questionable. The egg and cheese and bacon mini rolls were quite dried out. There was, however, some lovely greek yoghurt. The coffee machine was quite average.
The lounge was very busy (this was the end of July) and the staff really couldn't keep up with it. The lounge was not as clean as I would have expected. On the plus side it was a Sunday and they had every sunday paper on offer but lacking on the magazine front. I have been spoilt by the middle eastern airlines where you get magazines galore.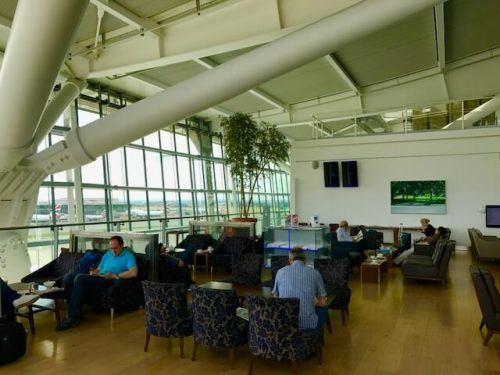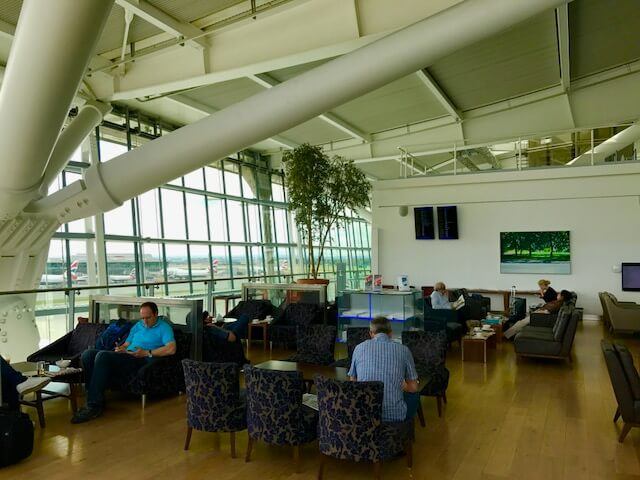 There was a great entertainment space – this would be a fabulous lounge if you were travelling with kids. There were loads of screens and headphones available. I also really liked the "outside" area which is of course within the terminal but external to the lounge.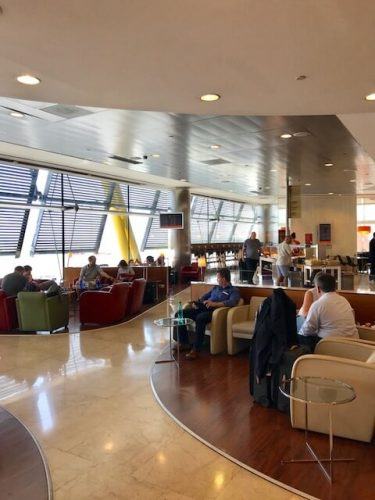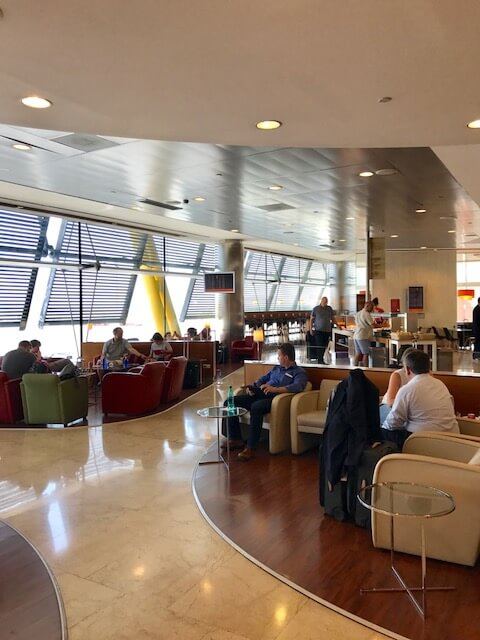 Iberia Airlines Review: London to Madrid
The plane to Madrid was old. One of those 3 seaters on each side where they leave the middle seat empty and then call it business class. I was in the last row which is of course right next to economy and I had a very annoying kid behind me. The service was ok but a bit slow. I do feel for the staff at British Airways when obviously costs are being slashed and things are a bit miserable. However, the reality is the middle eastern and asian airlines are operating at a whole different level when it comes to service.
Iberia Business Class: Lounge at Madrid Airport for the U gates
This was a nice big lounge and met my expectations for some good food! I was there for lunch and they had prepared a big spread! My only disappointment was that the only cava they had was in absolutely tiny bottles. This lounge is also strangely located in a duty-free shop. Which is fine but a bit odd.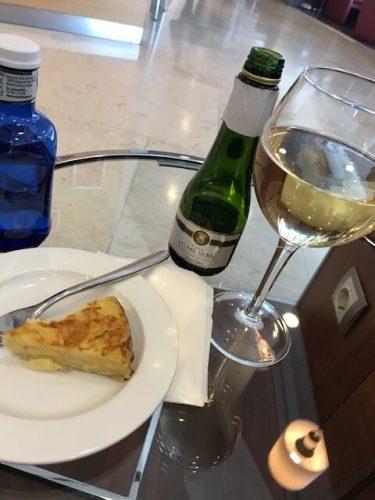 Iberia Business Class Review: Madrid to Medellin
The Iberia flight from Madrid to Medellin was a huge improvement on the first leg! This was in an A330 and there were fantastic big seats and a full bed. I learnt after getting on board that it is much better to be in an even-numbered row on the side. The odd numbers are the equivalent of having an aisle seat so you are going to get walked past whilst you sleep. The even numbers are right next to the windows so much more private.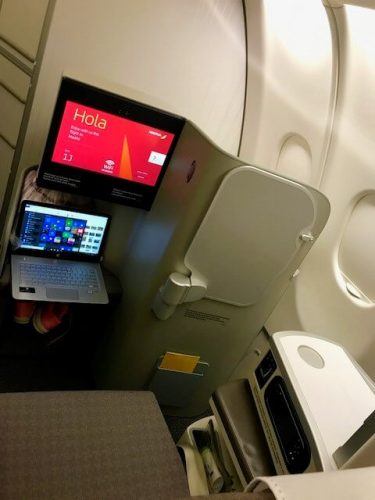 The entertainment system was quite good. A lovely big screen but the selection of films was quite limited – and the tv selection was even more limited. Very poor in relation to most other major airlines.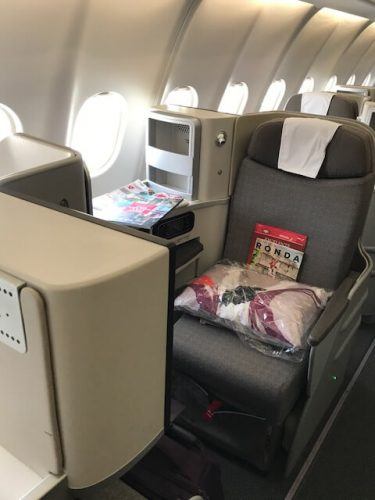 The service was quite good. The staff were fairly friendly and nothing was slow but again it does not compare to the middle eastern and asian airlines.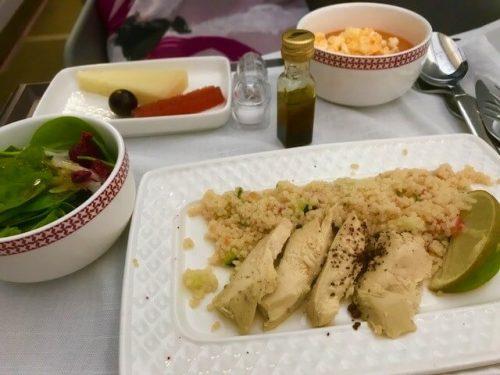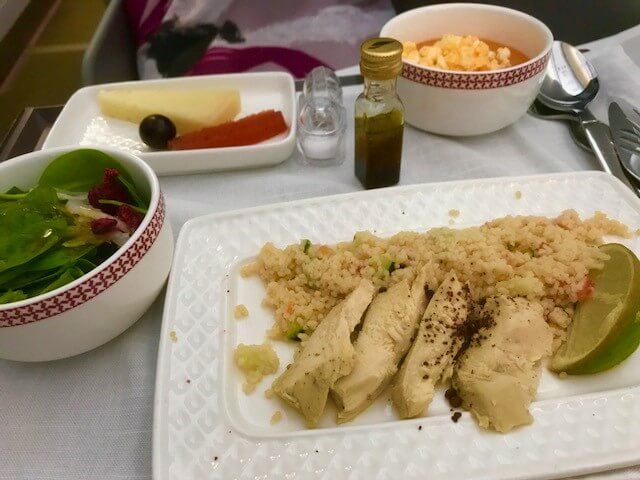 There were a nice light blanket/duvet and a decent sized pillow. Iberia also gives you 30 minutes of free wifi. This does seem a bit on the cheap side for a 10-hour flight in business class but oh well.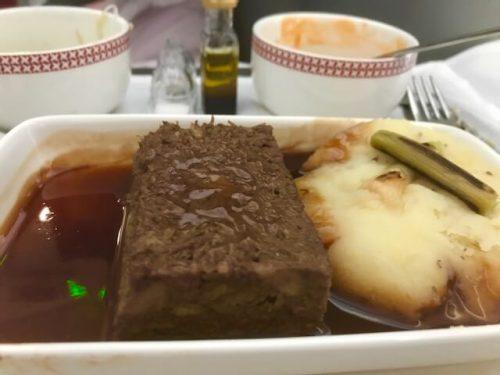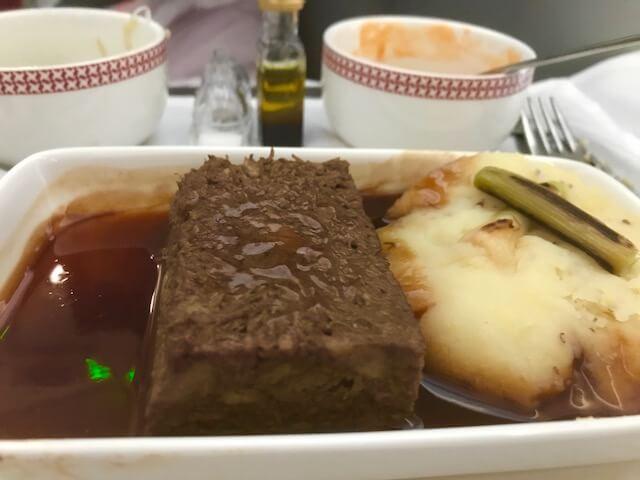 The toiletries were L'Occitane which was a nice surprise – excellent quality. The food was quite good – particularly the charcuterie – and there was a good selection of wines.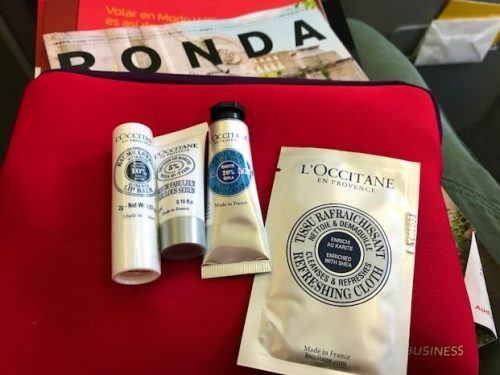 I really don't understand why all airlines don't have some kind of brochure for their business class offer. Business class seating is different on every airline and every plane model. For example, I stumbled across the fact that I could put my USB into the laptop and watch stuff from my computer on the nice big screen. This was fantastic for editing photos. However, I stumbled across it rather than having this clearly communicated to me as a benefit.
Iberia Airlines Review: The Lounge in Medellin
This was not a fantastic lounge experience. The international departures area at Medellin airport is quite small. The lounge is located upstairs and not so easy to find. This was not helped by the fact that I was flying out at night and there were virtually no lights on!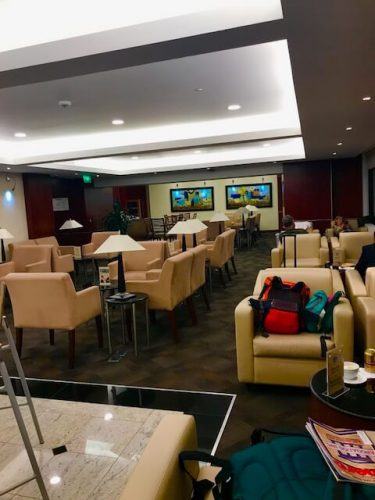 I stumbled into the lounge and it wasn't terrible but it wasn't great. It was dinner time but the only food on offer was crisps and biscuits. The flight was departing at 2230. I was then rather shocked to find out that the lounge closed at 2100! How could they not align the lounge hours to flight departure times?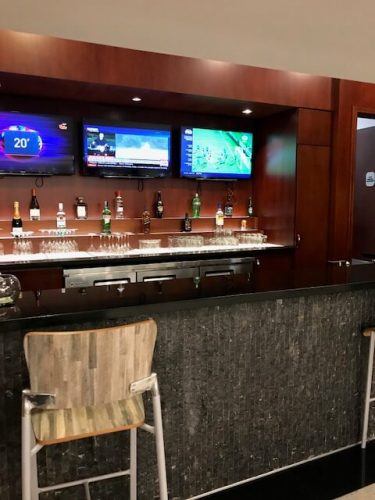 The only staff was a rather grumpy man on the bar. He did a colombian pour of my cava (eg tiny). When I asked him to fill it up further he refused. I mentioned I would just be back sooner and I was summarily dismissed!
I wasn't thrilled about having to exit the lounge at 2100 and then sit in a standard chair downstairs. There is very little on offer at Medellin airport.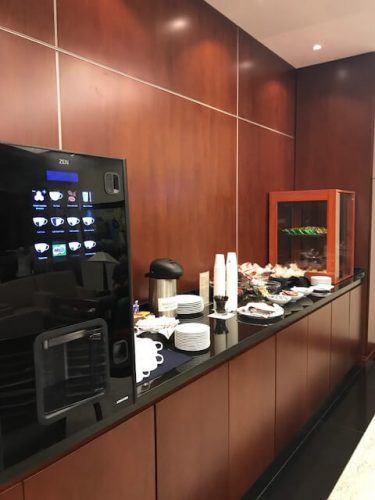 The return flight was basically as per the inbound flight. The staff were very friendly on this leg. Unfortunately, I had forgotten my own advice about sitting in the even numbered rows and I was in row 1. That is normally a great thing but not when it is an aisle seat and you are next to the toilets! Oh well, it wasn't so bad.
Iberia Business Class: The Lounge in Madrid
Alas, things were not so great upon arrival in Madrid. I was mistakenly told by the cabin crew that I needed to change terminals for my connecting flight to London. I didn't double check – which I should have done – and just followed signs. It turned out that this was incorrect information. I somehow ended up going through immigration 3 times and security twice as a result which was quite frustrating.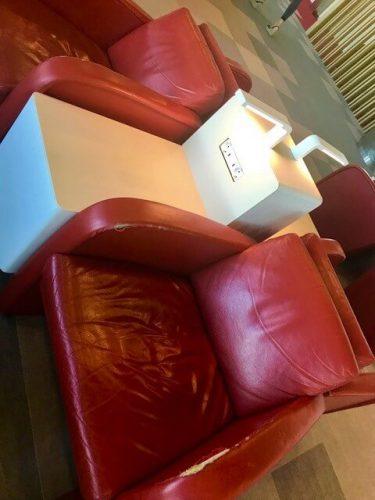 I finally arrived at the lounge again in the Duty Free section. On arrival, I asked if there was a shower that I could use. I was told there was not. I asked if there were any other Iberia lounges I could use that had a shower or partner lounges – and again the answer was no. I was very shocked this was the case in Iberia's hub airport. The man on the desk was very dismissive of my concern which did not help.
The lounge was pretty awful. To be fair there were signs up saying they were in a refurb but gosh! I went to the bathroom to wash my face and there was literally nothing apart from toilet paper that I could use to dry it – that and the air blower!
The seats were so old that they were threadbare. However, the food was quite good as were the drinks.
My last leg was back on British Airways and with the old empty seat in the middle means business class.
So overall I would not be looking to fly with Iberia again. The in-flight experience was good from Madrid to Medellin return. However, I was very much put off by some of the service and lounge experiences – which is a good chunk of what you are paying for with business class.
Having said that if they had a much much better deal than everyone else I would probably consider flying with them again long distance vs premium economy with someone else.
Iberia Business Class Review Useful Links:

Comments
comments