What Is Fashion.. Really? Lets Go Straight To Africa!
The following two tabs change content below.
Latest posts by Alina Teresa (see all)
Hey fashion lovers aka extraordinary people It's Alina Teresa!! I want to go straight to Africa!!!
Did you ever think about what the fashions in countries you are not from is like? This thought came to mind when I met this wonderful fashion designer from Ghana Africa!!!  BEFORE I CONTINUE LET'S PAUSE.. REACH YOUR MOTIVATION STATION  NOW FINISH THIS SENTENCE I NEVER STOP….I NEVER STOP CHALLENGING MYSELF!! IT IS IMPORTANT TO MAKE YOURSELF DO BETTER THAN THE DAY BEFORE. DARE YOURSELF TO BE EXTRAORDINARY AND NEVER ORDINARY. Back to business this fashion designer Daniel Morrison CEO of Morrez Fashion has an extreme keen eye for the power of design!!
Daniel Morrison has told the story of fashion by using many different African prints such as the George Taffeta and Imperial George fabrics. One of the main prints in Ghana Africa used by Daniel is the kente and Dashiki prints!!  In this photo you see here he has used Denim material to create an fabulous masterpiece with a combo of Jeans !!You can never go wrong with Jeans and Denim!! Daniel Morrison is not only a designer but a stylist as well. He works hard to make sure his clients are satisfied.
Daniel is a well known designer in Ghana Africa where they use African print frequently. Check out these pictures!!!
This piece is from his recent clothing line called the Reality Collection!!
Notice the mixed patterns, colors and designs!! The goal is to be different and to think outside the box when designing and Daniel does just that!
 Kente, known as nwentom in Akan, is a type of silk and cotton fabric made of interwoven cloth strips and is native to the Akan ethnic group of South Ghana. 
The Akan people choose kente cloths as much for their names as their colors and patterns.
As I dissect this fabric and design I notice that the fabric is based upon am on going pattern.
Legend has it that kente was first made by two Akan friends who went hunting in an 
Asanteman
 forest found a spider making its web.The friends stood and watched the spider for two days then returned home and implemented what they had seen.  WOW!!! That is so creative and it just proves even more so how everything around us is fashion….everything around us is inspiration!!! Kente fabric also has a mixture of colors and each color has it's own representation. One of the main colors used a lot is the color yellow meaning
 preciousness, royalty, wealth, fertility, beauty!! They also use incorporate a lot of the color blue meaning 
peacefulness, harmony and love. The meaning vegetation, planting, harvesting, growth, spiritual renewal can all be found in the color green.
Check out this gorgeous dress made from Kente fabric: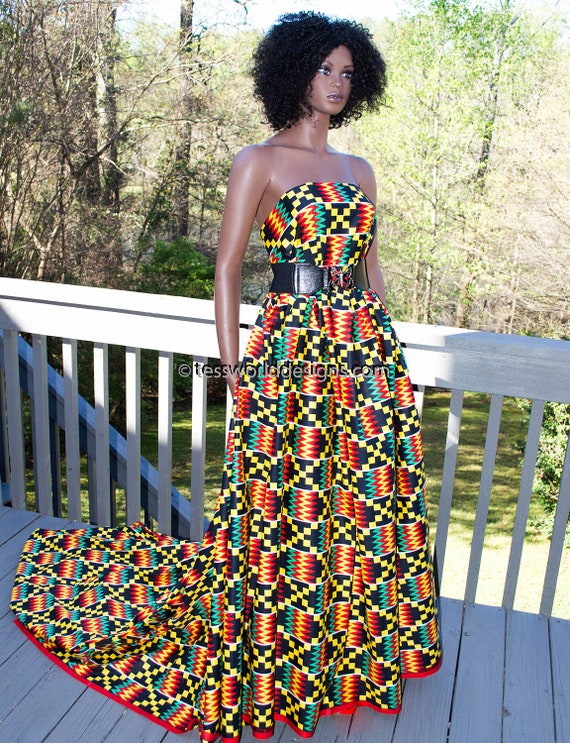 This dress just screams beauty!! Every pattern, color, and design is aligned just right to proper tell the story of this masterpiece!!
As I looked further into the African fabrics i discovered another type of fabric that is extremely popular in the African culture called Dashiki fabric!! Take a look!!
The 
dashiki
 is a colorful garment for men widely worn in 
West Africa
 and also worn in other parts of Africa. It covers the top half of the body. It has 
formal
 and informal versions and varies from simple draped clothing to fully tailored suits. A common form is a loose-fitting pullover garment, with an ornate V-shaped collar, and tailored and embroidered neck and sleeve lines. It is frequently worn with a brimless 
Kufi
 cap, which is worn in Islamic communities in Africa and the African diaspora, and a pair of pants.
The Dashiki fabric is so artistic!! The story being told is very unique with every stitch!! This fabric can be worn for weddings as well.
Check out this Dashiki wedding suit: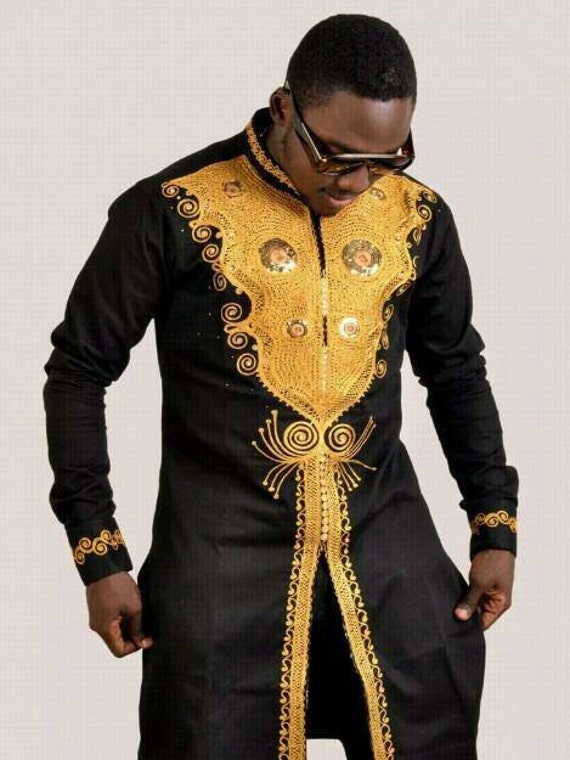 The master mind of design all begins with a vision.  This vision is then presented out for physical view!!
Check out these sketches by Daniel Morrison!!
Looking deep into this i adore how he labels each aspect of his masterpieces!! This gives the design purpose and a sense of order!!
Take a look at his recent client that he just styled
As I began to talk to Daniel he elaborated on the inspiration behind this masterpiece!! "This outfit is called Batakari which is a traditional Garment style by the Northern people of Ghana. Mostly worn by chiefs and members of the society during occasions. I diversify the fabric which is a Kente called Adwene Asa by the Ashanti's of the Southern part of Ghana. This was worn by a Ghanaian client at the US for an occasion. By wearing this he showed a sense of Ghanaian pride." Daniel's concept was to incorporate the culture of two different ethnic groups in Ghana!!
Africa is overall an lovely continent!! There is music excitement and the joy of unity.  So what do you say? I say
LETS GO STRAIGHT TO AFRICA
!!!

Comments
comments