Best Travel Hair Dryers 2018
The following two tabs change content below.
Hi! I became a travel blogger a year ago after 15 years in big corporate marketing jobs. I now do a mix of digital marketing consulting and blogging - hoping to make it 100% blogging eventually! My blog is about luxury adventures in Emerging Destinations that end with a high thread count on your sheets. My key focus is emerging destinations - whether it is a country that has not been visited much or a lesser known part of a well known country. And lots of food and wine and fun! My site is https://theboutiqueadventurer.com and on facebook I am The Boutique Adventurer on IG @theboutiqueadventurer twitter @theboutiqueadv and Pinterest @theboutiqueadve.
Latest posts by Amanda OBrien (see all)
What are the best travel hair dryers? Hotel hair dryers can be a crapshoot. It is so disappointing to arrive at a hotel when you haven't packed a hair dryer and seeing one of those dreadful hair dryers that fit into the wall of the bathroom. Honestly, I think I could dry my hair faster just blowing on it!
As someone who likes to travel to emerging destinations, you can then end up with very low voltage very weak hair dryers. When I am travelling I am keen to get moving and want a powerful hair dryer that I can count on! Here is my guide to buying a Travel Hair Dryer.
If you're in a hurry here is my quick pick travel hair dryer buying guide. If you do have more time I have detailed reviews of all picks as well. Here is my selection of some of the best travel hair dryers available at the moment.
Quick Picks – Best Travel Hair Dryers
Key Things to Compare When Buying a Travel Hair Dryer
If you travel more than a couple of times a year and have hair which demands some attention to be photo friendly investing in a good travel hairdryer is one worth making. The wrong one can be a burden in terms of increasing the amount of time it takes to get ready when travelling or worst of all causing a bad hair day!
Here are some of the key things to consider when buying a travel blow dryer:
Power
There are few things worse than a weak hair dryer. However, too much force can cause styling problems. The good news is vast improvements have been made in this area in recent years and a small travel hairdryer can pack quite a bit of punch in the power department. 1800– 2100w is the best range to look forward in order to get the power that will dry your hair without damaging it.
Size
Smaller is of course better. However, I find that being able to fold the handle can often be more useful than a smaller hair dryer as it is more flexible as a packing shape.
Weight
A small travel hair dryer is not necessarily light. They can be far weightier than you might think. Ideally, a travel hair dryer should weigh under 500 grams.
Cable length
So many hotel rooms have far too few plugs and far too few mirrors! A lengthy cable can come in handy as long as it doesn't add too much bulk. The ideal cord is between 1.5 and 2 metres. 
How to Choose the best Travel Hair Dryer to Suit You
The second set of factors you should consider when buying a travel hairdryer is your hair type and travel behaviours.
Hair Type
Is your hair frizzy or coarse or fine or curly? This will have a major impact on your decision. If you have frizzy hair it may be worthwhile spending extra to make sure your travel hair dryer has a cool shot. Would spending extra to get an ionic travel hair dryer be worth it for improved appearance?
How many speed and heat settings do you need? Personally, I like to start off high but then move down low as I finish off to reduce frizz so I always want at least 2 settings on my travel hair dryer.
Attachments
This is a critical area! The first and key question is do you use attachments at home? If the answer is yes then I highly recommend you seek to replicate this in your travel hair dryer. Yes, a travel hair dryer with diffuser takes up some space but if it makes your hair happy it is worth that space.
I am a big fan of a removable nozzle. Often when travelling you have demands on your time. If you are in a hurry you can remove the nozzle and dry much faster. However, if you have more time and are heading out for the evening you can pop the nozzle on for a sleeker appearance. Nozzles generally don't take up much space on a travel hair dryer and can be well worth it.
Style
Of course, this is a highly personal element! All hair dryers used to look the same and you will find many of them in the drawers of bad B&Bs all over the world! These days there are far more stylish options available at reasonable prices for boutique travelers!
Where do you travel most frequently?
To be honest I now have one travel blow dryer for the Americas and one for the rest of the world. I could not find a dual voltage travel hair dryer that when fitted with an adaptor could maintain its power in 120V and it was driving me mad. Please do message me if you have overcome this problem and I will update the post!!
If you travel more in the UK remember there are no power points in the bathrooms so you may want to choose a travel blow dryer with a longer cord to overcome the far too low number of power points normally available!
How long are your trips?
The shorter the trip ideally the smaller and lighter the travel hairdryer. If you are only taking an overnight bag or a bag to hit in an overhead locker space is crucial so your travel hair dryer should be as space efficient as possible. There are also airline luggage restrictions to consider.
On longer trips, I tend to have a larger bag and although this requires more outfits I tend to want a decent hair dryer if I am going to be away for two weeks. One dodgy blow dry is something I can deal with – two weeks of bad hair is not!
Price
No matter what your spend size there are options available. The quality of travel hair dryers has improved markedly so it is now possible to get a good powerful travel hair dryer at a low price. However, if you have more troublesome hair and travel quite often you may want to spend more to increase the functionality of your travel hair dryer.
Best Travel Blow Dryer Brands:
Babyliss (sorry can't keep doing that capital B for the second B!) is a very well known and respected brand in hair care. They are also the brand of travel hair dryer that I personally use for outside of the Americas and I have been very happy with my Babyliss travel hair dryer!
GHD or Good Hair Day launched about 10 years ago and were quite revolutionary in terms of hair care. In particular, they were known for amazing straighteners. They work with professional hairdressers and tend to be at the medium-high end of the market in terms of price. However, their products are excellent in terms of quality.
GHD also has possibly the most stylish products in this market with their classic GHD flight travel hairdryer and limited editions in colours such as gold and bronze and sleek design.
Parlux position themselves as the brand of hair dryer for the salon professional. Their products are designed for high levels of usage and consistent results and are priced accordingly. This Italian brand will give you a travel hair dryer that lasts and delivers. Surprisingly for an Italian brand, their products are not as stylish as those of GHD.
Remington has been making travel hair dryers for a long time. They used to be the standard decent mid-priced option and are exactly what I think of when it comes to the old-fashioned travel hair dryer.
They now have a far more extensive range. They do have some of the cheapest models on the market as well as classic and premium ranges at price points to match. In recent years they have looked to innovate on style by using retro hair dryer designs. This one definitely comes down to personal opinion.
Products from Amazon.co.uk
Dyson has one hair dryer – but due to its size and weight, it is definitely an option as a travel hair dryer. Having said that there is a large price attached! They have a fantastic design and are very effective. However, whether it returns on the price is probably driven by your hair type and texture.
The downside of using the Dyson for travel is that it was clearly designed for in-home so the handle does not fold up. It is a very light product but the lack of flexibility means it is not as packing friendly. It did not make my top ten as from a travel hair dryer perspective it is considerably more expensive than anything else on the market and I am not sure that it is that many times better based on multiples. However, I did want to mention it as an option.
Read more Reviews and Check Prices for the Dyson Hair Dryer
Benross Red Hot is a decent budget travel hairdryer brand. Their travel hair dryers are very much red as stated! It is a short tight range and if your hair is quite low maintenance and you are looking for value this brand provides a good option.
This Chinese brand is the standard everyday value offer in the travel hair dryer market. They tend to mimic the design and features of the more top end brands. An Amazon favourite!
Best Travel Blow Dryer Choices 2018

This 2000W dryer has the perfect power level for a travel hair dryer. The handle folds up nicely to maximise space. It comes with a nozzle and 2 speeds. No diffuser and no cool shot at this price level.
They do say it works in dual voltage – I think the design has moved on as the new ones allow you to adjust this on the dryer. And I quite like the pouch it comes in! 1.8 metre cord.
Conclusion: This is a great value option if you have fairly straightforward hair.
Check Prices and Read Reviews of the BaByliss Travel 2000 W Hair Dryer
This 1200W dryer is half the weight of standard travel hair dryers – it weighs only 340gm! It has 2 speeds and 2 temperature options. It comes with 2 nozzle options – a broader diffuser type on a small scale and then a concentrated nozzle.
It also comes in fabulous colours like pink and purple! The tradeoff is the power but Babyliss claims there is not much of one.  The cord is also a nice 1.8 metres.
Conclusion: This is perfect if your priority is weight and your hair is quite low maintenance.
Check Prices & Read Reviews of the BaByliss Travel Hair Dryer 1200 W
Whilst not specifically designed to be a travel hair dryer this more upmarket option from the Babyliss Pro range is still a travel option. It is heavier than your average travel hair dryer at just over 1kg due to its 2200 W Italian motor.
It is ionic and comes with a cool shot so great for those with problem hair. It has 6 heat/speed settings and 3 concentrator nozzle/diffuser options. It is not dual voltage.
Conclusion: This is your travel hair dryer if you have problem hair.
Read Reviews and Check Prices of the BaByliss Pro Torino Hair Dryer Ionic
Products from Amazon.co.uk
This is your top of the market option! This compact hair dryer was designed for hairdressers but completely suits travel requirements as it is only 20cm long and weighs just under 500 grams.
It has 4 temperatures – 2 speeds and 2 switches – one instant cold shot and comes with 2 concentrator nozzles. It also comes in a range of gorgeous colours. Alas, the handle does not fold up.
Conclusion: This is the top of the market option for those who like the best – and/or have high maintenance hair.
Read more Reviews and Check Prices of the Parlux 3200 Compact Hair Dryer
This is the ultimate option for a dedicated travel hair dryer. This sleek model comes with the high-quality GHD Air System inbuilt. It weighs in at just 423g making it 60% lighter than a standard GHD hair dryer but with 85% of the power.
The GHD travel hairdryer features 2 speeds and heats, cool shot and a GHD hair safeguard. The cord is over 1.5m, it has universal voltage and comes with an attractive branded bag.
GHD regularly brings out seasonal editions of this product featuring different colours and bag types.
Conclusion: This is the for those who are looking to invest in a travel hair dryer.
Read more Reviews and Check Prices on the GHD Nocturne Travel Hair Dryer
Products from Amazon.co.uk
A great value option this travel blow dryer carries some power with 2000W and has a foldable handle. It has two heat settings, two-speed settings and comes with a compact diffuser.
The hair dryer includes a non-removable nozzle or concentrator for a smooth finish. The cord is 1.8m, a nice length, weights 450 grams and has worldwide voltage.
Conclusion: This is the best value choice for those with curly hair due to the compact diffuser.
Read more Reviews and Check Prices for the Remington D1500 2000W Compact Travel Hair Dryer
Similar Models:
Products from Amazon.co.uk
Remington also has the D2400 model. This is a less expensive model that has very similar features apart from a considerably lower power level of 1400W. It does have a removable nozzle. It weighs only 250gm and is 23cm tall.
Check Prices and Read More Reviews of the Remington 2400W Hair Dryer.
Products from Amazon.co.uk
A best seller, the D3010 is a 2000W dryer with 2 speeds and 3 temperature settings. Its big advantage is ceramic ionic technology and its cool shot – great for those of us prone to frizz. The hair dryer has an eco setting which uses considerably less power. It has a concentrator nozzle but no diffuser.
The downside is that it does not have a folding handle and it weighs slightly more than the average travel hair dryer at 600grams. However, it is sleeker in appearance than the D1500 and the D2400. It also has a 1.8m cord.
Conclusion: Best value choice for those with fine hair
Read more Reviews and Check Prices on the Remington D3010 2000W Power Dry Hair Dryer
Products from Amazon.co.uk
This is often the cheapest travel hair dryer on the market. It has a folding handle and only weighs 325g. It comes with only two settings and no cool shot. The Benross Compact also has a removable concentrator nozzle.
The cord is the standard 1.8m length and it has dual voltage. Reviews of this product are generally quite positive.
Conclusion: The ultimate value travel hair dryer.
Check Prices and read some more Reviews of Red Hot Benross Compact 1200W Travel Hair Dryer
Although this is not called a travel hair dryer its foldable handle and lightweight (590 grams) makes it a great candidate. It is slightly less powerful than some of the other travel hair dryers in my top 10 at 1800W. However, it applies an ionic moisturizing technology to minimize hair damage.
It has a 2 speed and heat setting as well as a cool shot. The concentrator or nozzle is removable. The current version is rose gold. Design wise it is a bit of a polarizer – I will leave that to your choice. Pricing is normally at the value level on this item and you get a big bang for your buck in terms of managing temperature, speed and airflow with the ionic system.
Conclusion: The best value choice for temperature sensitive hair.
Check Prices and Read More Reviews of the JINRI Hair Dryer Professional Ionic Ceramic 1800W
Best Travel Hair Dryer Accessories
Bling up your travel hair dryer with some of these useful accessories:
Conclusion
The best travel hair dryers for you will be based on a number of personal factors – not least being your budget! However, if you do travel more than a couple of times a year it is well worth investing in a travel hair dryer that suits your hair and travel needs.
If you like this post why not pin our best travel hair dryers image below?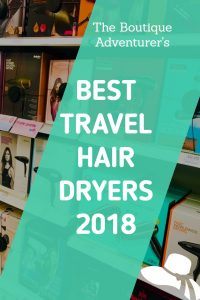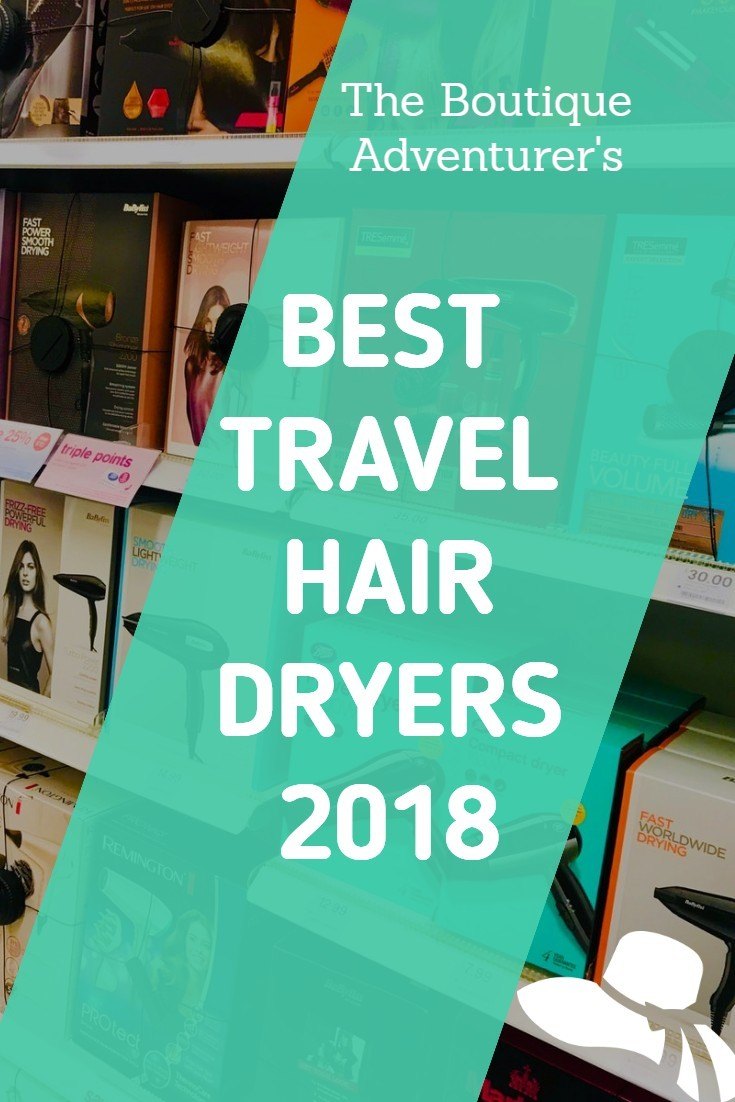 If you click through on the links on this post I will receive a small commission. I just wanted to make sure that you knew.

Comments
comments